Having grown tired of the drab hospital gowns provided to expectant mother upon admission to the labor & delivery unit, Posh Pusher founders Emily Campbell and Kim Roemer decided to create a brand that offered a stylish alternative for their special labor and delivery experience. These entrepreneurs (and labor and delivery nurses themselves) knew the road from product development to manufacturing might be tedious at times, however they saw the potential. 
"The idea behind Posh Pusher gowns was to provide all the necessary features of a hospital gown for your big day. From easy IV and epidural access, to the convenience of shoulder snaps for breastfeeding and skin to skin bonding, your Posh Pusher will be all you need for a super cute & special delivery whether you labor or deliver via c-section."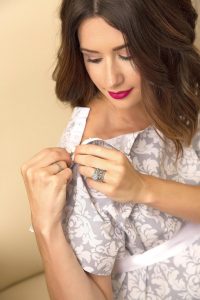 Over the course of the next few years, Campbell and Roemer (along with input on design necessities from additional labor & delivery nurses), began the manufacturing process, working with someone in China they had never spoken to on the phone. With so many fine details at stake, Campbell and Roemer realized their dire need for the "complete package" combination of manufacturing and project management expertise. 
"In 2016, we were having our product manufactured by someone in China we had never laid eyes on or spoken to over the phone. We were spending time wrapping ribbons that we include with the gowns, having stickers printed to attach to our packaging and packing them all ourselves."
Later that summer, Campbell and Roemer found themselves at the Atlanta Market, showcasing their tailor-made Posh Pusher gowns for women, as well as their Baby Posh gowns for newborns. Their booth garnered the attention of Product Crew Executive Stacy McGuire, who immediately walked up to their booth to introduce himself. McGuire quickly explained how Product Crew could offer Posh Pusher the complete package and from there, a beautiful partnership was born.
"We call McGuire our 'Market Angel' because from Day 1, McGuire has been an amazing 'angel' asset to Posh Pusher.  He simplified our process of manufacturing Posh Pusher, organizing everything from the fabric design, to making the garment, and creating and producing the box that our product goes in. To have a liaison we could meet with, in person, face to face between us & the manufacturing in China was a huge plus as well! We were absolutely ready for everything McGuire & Product Crew could do!"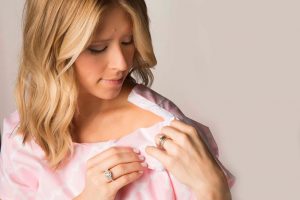 Within three months of working with Product Crew and placing their first order, Emily and Kim received a semi-final version of Posh Pusher. And much to their delight, no more hand-folding, packaging or wrapping of ribbons was necessary!
"The team at Product Crew were always willing to make changes and meet our high maintenance & perfectionist personalities! And we really can't say enough good things about McGuire! He is always available to help answer any questions or relay anything to the team. It's so nice to be able to shoot a quick text, email or meet with him in person and know our requests were being put in action."
Thank you to Posh Pusher for sharing your Product Crew story with us! Ready to get started on your project? Contact us today!