Meet Adora, the founder of Adoratherapy, a vertical manufacturer of aromatherapy products and the creators of Mood Boost™ (an all natural, organic, vegan, blended essential oils designed to shift your mood and emotions).  On a mission to anchor daily mindfulness into its customer base, Adoratherapy brings over two decades of expertly curated collections of "beyond organic" essential oils and exotics from around the world. Whether it is their unique and proprietary organic lavenders hand selected from France, Bulgaria and Kashmir, or their Yakima Valley organic peppermint, you will find an exquisite selection of the very best that our global Earth garden has to offer, intuitively blended to boost your mood.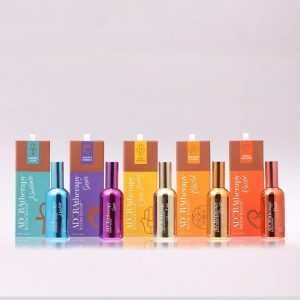 "We are more than an aromatherapy company. We are a lifestyle company creating new habit patterns around healthy lifestyle choices. We approach business from an integrated, unified perspective, wishing to create an opportunity for our highest human potential to be expressed."
With an initial product release of 17 SKUs (with only seven having a box), Adoratherapy continued designing and sourcing ideas, even paying for samples from a factory that arrived back in poor quality. The experience left Adora and the company with low confidence and more extensive communication barriers than before. As Adora began looking towards the future of her company, she realized she needed the professional manufacturing and project management to continue moving Adoratherapy forward.
In the summer of 2016, Adora set up shop at the Atlanta Gift Show, hoping to meet and mingle with additional manufacturers. It was there that the Adoratherapy booth caught the eye of Product Crew Executive Stacy McGuire. 
"McGuire walked by our booth and did a double take, complimenting us on our packaging and a conversation ensued. We found out he knew Asheville well and heard his story and felt he was someone we'd like to follow up with."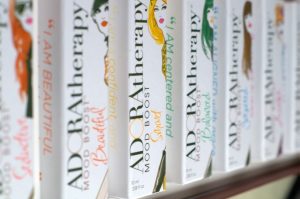 With a Product Crew partnership in place, Adoratherapy forged ahead, placing their first order for samples in August 2016. With an extensive RFP of initial packing research and sampling requirements, Adoratherapy quickly tripled their amount of SKU's. 
"Product Crew worked with us on pricing, the cost of landing goods and delivery, all while retaining excellent communication and quality of goods. While the project was a massive undertaking (in terms of the cost and amount of SKUs), the team at Product Crew impressed us with their execution and efficiency, while providing direction and coaching to both sides. McGuire is also a great businessman and a terrific human being. We so enjoyed working with such a well rounded, humble and trustworthy individual."
Thank you to Adoratherapy for sharing your story of how Product Crew transformed your business. Ready to get started on your project? Contact us today!